Auto Dealership Cleaning – Let It Shine!
Auto dealership cleaning enables dealers to have the cleanest and most presentable showroom and service areas to ensure that customers get the right first impression. Let's face it, buying conditions matter. When someone is in the market for a new car, just imagine the impression that prospect would have if they walked into your car dealership and it was dirty and dusty.
A clean auto dealership with lots of natural light and a shiny floor to reflect new cars can help boost sales. Avoid dirt on high-traffic showroom floors, in waiting rooms and sales offices with a scheduled janitorial maintenance program to help enhance the auto dealership's appearance.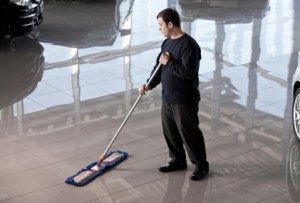 What should you look for in an auto dealership cleaning program?
Regular Commercial Cleaning Maintenance:

At each visit, thorough cleaning of surface areas such as dusting of countertops and furnishings, proper floor cleaning, restroom cleaning, and trash removal should be part of the janitorial cleaning of your auto dealership.

Auto dealership showroom floors should shine. Hard surface floors can be cleaned with standard floor scrubber-sweeper equipment. The use of a dust mop and/or sweeper will help remove loose debris, while damp mops can remove spills and soil.

Additional Maintenance:

Add more shine to your auto dealership showroom floor. A good practice for optimum appearance to an auto dealership showroom floor would be periodic strip and wax of hard floor surfaces, commercial carpet cleaning, and professional window washing.
Seek an expert in the car dealership cleaning industry. A Vanguard Cleaning Systems® franchised business owner can provide professional janitorial cleaning expertise for your auto dealership. See what makes Vanguard® janitorial franchise businesses leaders in automotive dealership cleaning.
---
About The Vanguard Cleaning Systems® Brand
Founded in 1984, the Vanguard Cleaning Systems® organization is built upon over 2,500 independently owned and operated franchised commercial cleaning businesses, which are licensed and supported by an Area Franchise network of more than 50 independent regional offices throughout North America. Vanguard® franchised commercial cleaning businesses service over 15,000 businesses, healthcare companies, educational facilities, and non-profit organizations.
Related Posts:
Maintaining a pristine appearance in your auto dealership sends a message to customers that you are taking their investment seriously.
Microfiber is an excellent green cleaning-technique that can improve the overall health of a work environment. View video and learn how.