Office Cleaning Tip – Holiday Tree Sap Removal.
The holiday season is a wonderful time of year when many businesses spruce up their office space and bring holiday cheer to their employees. Many offices adorn their common areas with garland using wintertime plants such as fir, pine, and holly, and some will erect a Christmas tree. While the decorative work-space looks beautiful, the sap from such conifers may spill onto carpeting and floors, drip onto windows, and even seep into clothes.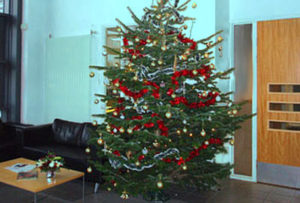 The sticky mess from tree sap can be difficult to remove. For a "green" approach to clean this mess, here are some suggestions recommended by How to Clean Stuff:
First, use an ice cube to try freezing the sap. Do not rub, just let the ice melt. At this point you can try to pick it off, or allow the fabric to dry and then:
Moisten a soft cloth with one of the cleaning solutions below. Make sure to select a cleaner that matches the type and color of the fabric. As with any cleaning solution, test on a small, hidden area before applying to larger spots.
Mayonnaise: Can be applied to skin, pets, clothing and your carpet. Dab it onto the surface. Once applied remove it by blotting.
Rubbing Alcohol:Check your office's first aid kit for the small alcohol wipes. Use one of the packets to blot it on the sap, massage it gently, and then immediately wipe with a dry rag.
Peanut Butter:Though not the most suited to scrub your carpets if your Christmas tree sap drips onto it, but peanut butter can work great to remove tree sap from hands and hair.
WD 40 – Great to remove sap on windows and glass. Spray a bit on the soiled area. Wait a few minutes, then wipe with a clean, dry rag.
Removing tree sap from your office floors and windows can allow your commercial cleaners to focus on your office after the holidays. If you are in need of a commercial cleaning service, consider Vanguard Cleaning Systems® locally owned janitorial franchise businesses. Contact your independent Vanguard® Area Franchise office for more information today.
---
About The Vanguard Cleaning Systems® Brand
Founded in 1984, the Vanguard Cleaning Systems® organization is built upon over 2,500 independently owned and operated franchised commercial cleaning businesses, which are licensed and supported by an Area Franchise network of more than 50 independent regional offices throughout North America. Vanguard® franchised commercial cleaning businesses service over 15,000 businesses, healthcare companies, educational facilities, and non-profit organizations.
Related Posts:
Tips For A Healthy Office
Get your office started on office recycling program. Help the environment, and the community in which your business operates, by implementing these six simple recycling tips.
Tips For A Healthy Office
Even when a carpet looks perfectly clean, it can secretly harbor an entire ecosystem of bacteria, mold, dust mites, and more.