Office Cleaning Tip: Good as New Microwave
Employee absenteeism can be a significant problem for businesses. The workplace can be a prime source for the spread of germs. The office kitchen and break room are places that can harbor germs if not properly cleaned. Aside from the water cooler, the kitchen may be the busiest place in an office environment. Regrettably, it can also be a place that receives little clean-up attention by office employees, particularly appliances such as the microwave.
Here are a few tips to make your office microwave sparkle inside and out.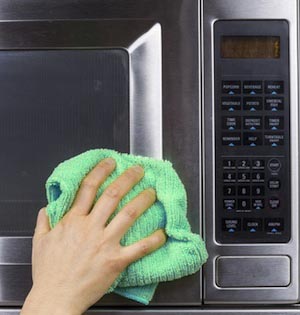 Option 1:
Place equal parts of vinegar and hot water into a microwave safe glass bowl. Typically, two cups of each liquid is sufficient.
Place the bowl in the microwave and heat for about 5-10 minutes (until boiling). TIP: use a non-metallic spoon or toothpick to reduce over-spill.
After 5-10 minutes, let the boiling water stand for a minute or two. Remove the bowl (use a towel or oven mitt!). Wipe the inside with a wet cloth/sponge.
Option 2:
Place ¼ cup of lemon juice or half of a freshly squeezed lemon into a microwavable bowl with one cup of water. Place into the microwave and heat to boil. Wait a few minutes, and then carefully remove the bowl. Wipe inside, top and sides of the microwave. Repeat if needed.
Don't forget to Clean the Outside
The majority of germs in an office environment can spread from hand to hand, so the exterior of a microwave is just as important to keep clean. To reduce germ contamination on the outside of your office microwave grab an alcohol packet from your office's first aid kit and wipe the exterior buttons, especially the handle. Immediately dry with a paper towel or dry cloth.
Create a safe, clean place to eat and take a break in your workplace. By keeping the office microwave clean you can help to reduce the risk of sick employees and maintain the health of your office workers. If your colleagues are not willing to pitch in and clean up after themselves, then consider a locally owned Vanguard® franchised commercial cleaning business. Contact your independently owned Vanguard Cleaning Systems® Area Franchise office to learn more.
---
About The Vanguard Cleaning Systems® Brand
Founded in 1984, the Vanguard Cleaning Systems® organization is built upon over 2,500 independently owned and operated franchised commercial cleaning businesses, which are licensed and supported by an Area Franchise network of more than 50 independent regional offices throughout North America. Vanguard® franchised commercial cleaning businesses service over 15,000 businesses, healthcare companies, educational facilities, and non-profit organizations.
Related Posts:
Tips For A Healthy Office
Get your office started on office recycling program. Help the environment, and the community in which your business operates, by implementing these six simple recycling tips.
Tips For A Healthy Office
Even when a carpet looks perfectly clean, it can secretly harbor an entire ecosystem of bacteria, mold, dust mites, and more.